Welcome to Gotz Doll Wiki!
Welcome to Götz Doll Wiki on Fandom! This is a Götz (Goetz) Doll Reference, Identification, and Cataloguing wiki! This community website researches and provides factual information (as much as possible) about Götz Dolls, from Vintage Götz dolls to current Götz Dolls and everything in between. With over seventy years of doll production, this will be, by no means, a small feat!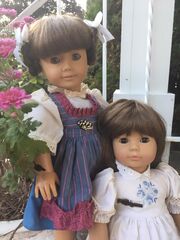 As I am seeking to provide the best online resource possible, please note that this wiki is still in its very initial set-up process, so I ask users not to contribute until I get a little further along - but please feel free to check out what I currently have to date! Also, feel free to ask for doll ID help via chat.
When I reach the point where users can help edit, please make sure to check out the User Contribution Requirements article (prior to editing) -- then click the edit button at the top of any page to get started! As always, feel free to ask questions along the way!
Check out these important articles to learn more about Gotz Dolls.
Need help building out this community?
Search for a Gotz Doll by Category:
You can also be part of the larger Fandom family of communities. Visit Fandom's Community Central!here a/>
Community content is available under
CC-BY-SA
unless otherwise noted.